75th Anniversary Gifts
75th Anniversary Gifts
September 17 - 25, 2016

Important: This event has already occurred.

City of Revelstoke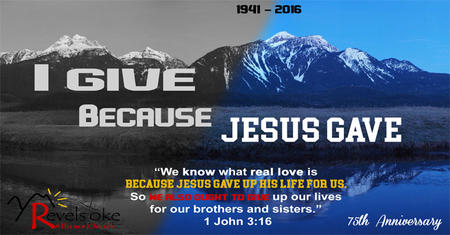 Dear Friend,

My name is Jayme Freeman and I am one of the Pastor's here at Revelstoke Alliance Church. We are celebrating our 75th Anniversary this week, and as we celebrate our birthday we are wanting to give the community of Revelstoke the gifts!
We believe in giving and in generosity. We also believe that we have been given the greatest gift of all - life. It is because of this that we want to give back to the community that we have been a part of for 75 years.

Our goal is that during the week of September 17th-24th we as a church will be blessing the community with 75 different 'gifts.' These gifts will be given out sporadically and spontaneously, but we want people to know what is happening when it is happening!

We want to get the word out so people know what is going on so we can give to the community we've been a part of for 75 years. So spread the word!

Pastor Jayme Freeman
Return to Events
---